Electrical Remodeling for Home & Business
Electrical remodeling or electrical re-wiring is best completed when building out your new project. In fact, for the best result, it is recommended that you involve a licensed electrician during your initial planning and permitting stages. A l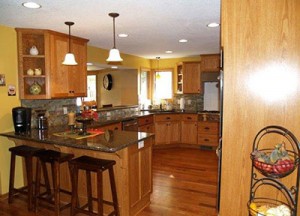 ocal licensed and a highly experienced electrical contractor can help you custom design your electric system to fit all your needs and wants. Security Electric is a state-licensed electrical contractor and an electrical remodeling specialist for:
Additions/Remodeling Services
Office & Warehouse Build Outs
Rewiring
Custom homes
Additional outlets and switches
Panel changes
Services upgrades
And much more
To
day, the modern build has many more available solutions to choose from. Structured wiring, ambient light sensors, LED lighting and more make it very easy to create inviting & pleasing environments and reduce electrical consumption.
Electrical remodeling of existing homes or office facilities is where our expertise shines. Working with homeowners, contractors, architects, engineers, and planners our team of electrical remodeling experts can help you custom design your electrical system to fit your needs, wants & budgets. Our highly trained staff will:
Review Your Electrical Layouts
Review Your Lighting Layouts
Provide Circuit Load Calculations
Provide Up to Date Electrical Codes Analysis
Suggestions for the Most Efficient Wiring & Fixtures

Provide Free Written Estimates
Contact Security Electric Today for Your Electrical Remodeling & Rewiring Needs
Since 1986, Security Electric has been providing electrical remodeling & rewiring in Southwest Florida, from Marco Island north to Port Charlotte. To receive a comprehensive estimate of your electrical remodeling needs please complete our online request form. For the fastest response please call our main Ft Myers office at (239) 433-0939.