Security Electric, Commercial Electric Contractor
Deciding which commercial electric contractor hire for your project?  Security Electric is an independent commercial electric contractor, committed to customer satisfaction, superior service, and excellent workmanship. Since 1986, we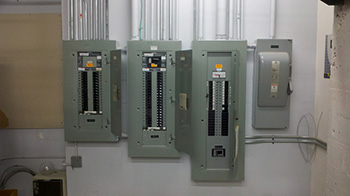 have assembled a team of professionals who share our dedication to every project big or small. Our commercial electrical services include:
Tripped Breakers
Electric Plugs & Switches
Wiring Lights
Electrical Panel Upgrades
Indoor/Outdoor Security Lighting
Standby Generators
Structured Wiring – Voice, Data, and Video
New Construction
Remodel Specialist for Office Buildings, Medical Offices, Warehouses, and Leased Spaces
Minimize Downtime with Our Licensed Commercial Electricians
Security Electric's mission statement is to provide our customers the most energy efficient electrical & solar services to continuously deliver the highest level of customer satisfaction and to make a positive contribution to our environment.
— What makes us different? Let's be honest: We aren't the only commercial electric contractor in the area, but we do believe we're the ones to hire. Why?
Our goal is to perform the best job possible and handle customer's maintenance requests in a very timely manner.
Our commercial electricians are constantly training to be the best. Every electrician on our staff are our employees and undergoes continuous training to learn the latest updates to the electrical code. We also all attend safety meetings once a week to ensure you get safe, reliable service you can count on.
Our commercial electricians get jobs done faster and better.

Our commercial electrical work is 100% guaranteed. We're not satisfied until you are. That's why we offer a 1-year guarantee on all labor and materials. You have nothing to lose and everything to gain!
Contact Security Electric Today!
Security Electric serves all of Southwest Florida from Marco Island north to Pt Charlotte. Our team of commercial electricians have years of experience and will get your commercial electrical project completed on time and within budget. To receive a comprehensive estimate of your commercial electric needs complete our online request form. For the fastest response please call our main Ft Myers office at (239) 433-0939.